Why Dryer Sheets?
Bounce® dryer sheets are the best way to dry clothes and keep them smelling fresh and feeling soft. Infused with fabric softener, Bounce® dryer sheets transfer lubricating fabric care agents to the surface of your clothes during your dryer cycle. Bounce® also fights static and wrinkles because it works right where they happen – inside your dryer.
Bounce® Benefits:
Reduces Wrinkles

Fights Static

Softens & Freshens

Fights Odor*
*Bounce® Sport™ only.
There's no better way to dry your laundry than with Bounce® dryer sheets… unless of course staticky, wrinkly, smelly clothes are your thing.
Step 1:
Toss laundry in the dryer.
Step 2:
Toss two (2) Bounce® sheets in the dryer for average loads.
Step 3:
Toss wrinkles, static and odor* goodbye with Bounce®.
Outdoor Fresh
Bring the fresh scent of the outdoors indoors with our classic Bounce® Outdoor Fresh scent. Keep your fabrics soft while fighting static, wrinkles, lint and hair at the same time.
Free & Gentle™
Dermatologist-tested, and made without perfumes or dyes, Bounce® Free & Gentle™ dryer sheets help you get in touch with your sensitive side. Plus, they're made with the same fabric-softening, wrinkle-fighting, static-stopping power as our regular dryer sheets.
How Many Dryer Sheets Do You Need?
How many dryer sheets you'll need depends on the size of the load. Toss in two Bounce® dryer sheets for your average loads to iron less, fight more static, repel more lint & pet hair, and add more softness & freshness. For small & medium loads toss in one Bounce® dryer sheet, and for extra-large loads toss in three!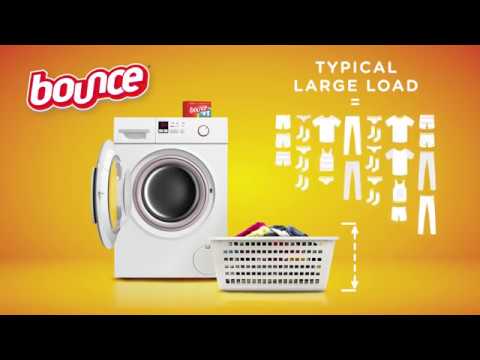 Dryer Sheets Vs Liquid Fabric Softener
Unlike traditional fabric softener, Bounce® works in the dryer where static happens. During the tumbling of the dryer, the Bounce® sheet's softening ingredients are transferred to the surface of fabrics via heat and physical contact which helps prevent the things on your fabrics that lead to a static charge.
| Bounce® Dryer Sheets | vs | Liquid Fabric Softener |
| --- | --- | --- |
| ✔ | Reduces Wrinkles | X |
| ✔ | Iron Less | X |
| ✔ | Works with all dryers | X |
| ✔ | No fuss or liquid mess | X |
Bounce® dryer sheets keep clothes looking great, feeling soft and smelling fresh. Spend less time ironing, just toss Bounce® in the dryer and say goodbye to wrinkles and static!