Get the most out of your dryer by simply adding a Bounce® Dryer Sheet to your load for soft fabrics with less wrinkles and static. But how do you get those amazing results? We'll tell you all about how to use dryer sheets in your dryer.
How Do Dryer Sheets Work?
Dryer sheets are used as both fabric softeners and static charge reducers. How exactly do dryer sheets work? The heat of the dryer, and moisture from the laundry warm the softener-treated sheet and spread the softener through the clothing. Additionally, dryer sheets balance the static electricity of the atoms in each item of clothing (a consequence of too many loose electrons jumping from one fabric to another) with positively charged particles.
Bounce Benefits:
*Bounce Sport only.
How Many Dryer Sheets Do You Need?
How many dryer sheets you'll need depends on the size of the load. Toss in two Bounce® dryer sheets for your average loads to iron less, fight more static, repel more lint & pet hair, and add more softness & freshness. For small & medium loads toss in one Bounce® dryer sheet, and for extra-large loads toss in three! It may seem obvious but many people wonder where to put dryer sheets; they go in the drum of your dryer, together with your clothes.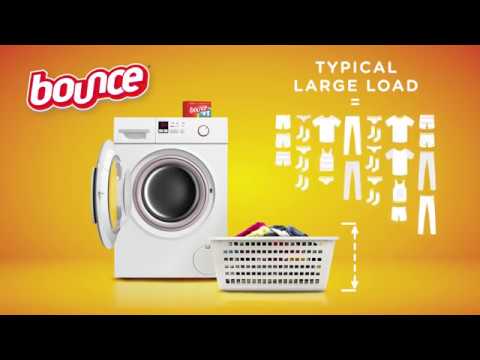 Should I Re-use Dryer Sheets?
Wondering whether you can reuse dryer sheets? Most of the softening agents are dispersed during the first use, so simply use a fresh dryer sheet each time for fantastic results.
Are Dryer Sheets Safe?
Whether dryer sheets are safe or not is another common question. Although Bounce® Dryer Sheets are safe to use with all machine washable fabrics, you shouldn't use them with garments labeled flame resistant or with children's sleepwear, as dryer sheets may reduce flame resistance. Other than that, you can use Bounce® Dryer Sheets on whites and colors, and in all major brands of North American dryers.
What if I Have Sensitive Skin?
If you have sensitive and/or easily irritable skin, you might want to go for the dermatologist tested Bounce® Free & Gentle™ Dryer Sheets, which contain no additional perfume and are mild on your skin.
Until now, you might not have realized what a difference dryer sheets can make when it comes to unlocking your dryer's potential. But, when you toss in a sheet of Bounce® you can say goodbye to your laundry woes and hello to amazing laundry results.