Bounce® Sweet Dreams Fabric Softener Dryer Sheets

See ingredients & more
Let the scent of your fabrics help soothe you to sleep.
Bounce® Sweet Dreams Fabric Softener Dryer Sheets
Bounce® Sweet Dreams Fabric Softener Dryer Sheets
Less static, fewer wrinkles, softer fabrics, while also helping to repel lint and pet hair - sounds like a dream come true? Then our Bounce® Fabric Softener Dryer Sheets in Sweet Dreams might just be what you're looking for. And once you give them a sniff, the soothing aroma of lavender, vanilla and cedar might lead you to discover a new level of bliss: UberBliss.
Bounce dryer sheets show wrinkles who's boss. Tossing a sheet in the dryer keeps clothes looking their best and reduces wrinkles from making embarrassing appearances at big meetings or important events.
Bounce dryer sheets help prevent static build up that occurs in the dryer. Now you can look and feel your best because Bounce dryer sheets keep you virtually static-free.
Bounce dryer sheets give clothes a fresh and exhilarating scent straight out of the dryer. Plus, clothes feel noticeably soft. So long, stale laundry smell.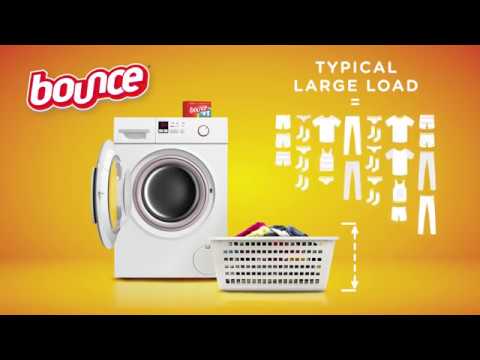 1 sheet = Small & Medium loads
2 sheets = Average loads
3 sheets = Extra Large loads
Toss in two Bounce® dryer sheets for your average loads to iron less, fight more static, repel more lint & pet hair, and add more softness & freshness. Catching up on laundry this week with an extra large load? Toss in three!
Just be sure to use a low heat setting on your synthetic fabrics. And if you happen to see random spots on clothes (sometimes a result of using a high heat setting), don't worry. Just rub with a bar of soap and then rewash the item in warm water.
Just a note: Bounce® is safe for all your machine washables, but should not be used on children's sleepwear or other garments labeled as flame resistant as it may reduce flame resistance. Please keep Bounce® out of reach of toddlers and pets to avoid accidental ingestion.
Other Uses
Bounce Around The House
Tuck them in drawers and closets.
Put one in your gym bag.
Stashed in your towel closet.
At the bottom of the trashcan.
Packed in your suitcase.